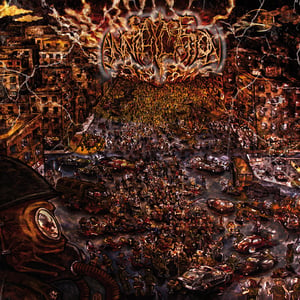 €

10.00 - On Sale
BEWARE: This is a preorder! Release date is October 1st, 2012. Your WHOLE order will be sent on the day products are on stock.
----------------------------------------
INTRODUCTION
"Cannibalisme, hérésie et autres suavageries", the debut full-length by France Primal Death Metal long running SAVAVE ANNIHILATION, will be released on October 1st, 2012 through KAOTOXIN records.
A prerelease party will be held during the band's Sep. 11th gig in Lille (FR) with Master, Fleshless and Death Agony with a full album listen and special on location advance album availability.
An exclusive full-album streaming is available on Metal Underground (http://www.metalunderground.com/news/details.cfm?newsid=84075) during the preorder perido.
Preorders are available RIGHT NOW on http://shop.kaotoxin.com/ or http://kaotoxinrecords.bandcamp.com/ . A special packa
ge deal with the "Dévoré par l'Humanité" t-shirt or girlie is available at discount price. HURRY UP!
----------------------------------------
SAVAGE ANNIHILATION
Formed in 2002 in the center of France with and by members of Defecal Of Gerbe (Goregrind) and Brennkelt (Black Metal), SAVAGE ANNIHILATION is all about being true to what its name suggests.
A first 8 tracks demo, "Death in Progress" is released in 2004, which gets them the opportunity to open for a wide amount of bands (among which Happy Face, Trepan'Dead…). The demo is followed, in 2008, by a split CD (with Decrepify (US), Visceral (Chile) and Ad Nauseum (FR)), featuring three tracks, among which a Sepultura cover that's gonna end on two different tributes also ("From Roots to the Seed" – Chabane's recs & "A Grind Tribute to 80's Thrash" – Inhuman Homicide recs). Since then, the band has constantly played everywhere they've been able to in Europe.
For their tenth year mark, SAVAGE ANNIHILATION are proud to announce that they've inked a multi-album deal with up-and-coming French label KAOTOXIN RECORDS (home of Darkall Slaves, Dehuman, Eye Of Solitude, Gronibard, Infected Society, Insain, Unsu, VxPxOxAxAxWxAxMxCx…) which will result in the release, on October 1st, of their debut full-length, "Cannibalisme, hérésie et autres sauvageries" (ten tracks, 40+ minutes).
----------------------------------------
CANNIBALISME, HERESIE ET AUTRES SAUVAGERIES
Raw, brutal, fast, blasting and featuring sick soloing, SAVAGE ANNIHILATION's "Cannibalisme, hérésie et autres sauvageries" is bringing back that primal proto Death Metal feeling the likes of Morbid Angel ("Abominations" / "Altars"-era), (early) Sepultura, (early) Krisiun, Nephasth or Nefas made popular before them, with the addition of their very own vision of twisted-ness.
"Cannibalisme, hérésie et autres sauvageries" will unleash SAVAGE ANNIHILATION's heretic Armageddon upon mankind, joining the Great Old Ones in their quest for the (savage) annihilation of mankind.